'As with any room, you should always start with what the house can give you. If it's a seventeenth- or eighteenth-century timber-and-brick construction, strip it back to expose some interior detail of its origin – whether that is a cross beam, an A-frame or a high, sloping window. Bathrooms don't have to have plumb walls, clean lines or overly neat junctions, as long as what you do is beautifully done.
'Roll-top baths are a classic component, but I'd advise against positioning one up against a painted or wallpapered wall. If you splish and splash, the water will permeate the wall and cause problems, and you'll end up having to repaint or repaper every 18 months. Instead, if you have the space, place the bath closer to the middle of the room. Underfloor heating and bathmats will protect the floor. If you want modern touches such as speakers, you can get them plastered into the ceiling so that they don't stand out in a bathroom with a classic style,' advises designer Sarah Stewart-Smith.
The most successful bathrooms are so much more than just spaces in which to perform your daily ablutions. Rather, they are lovely and inviting rooms, decorated to delight, but never at the expense of their practical requirements. A perfect recipe for relaxation.
See below to get inspired by our pick of the most beautiful country bathrooms…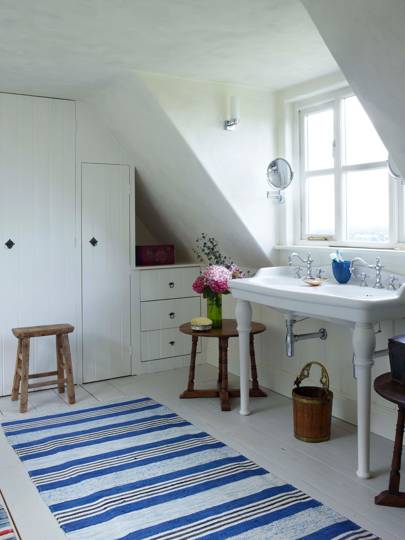 WHITE FARMHOUSE BATHROOM
The main bathroom in this Wiltshire farmhouse, on the top floor under the slope of the roof, has a stripy flatweave rug brightening up the white walls and floors; the view from the window above the sink is across fields and copses.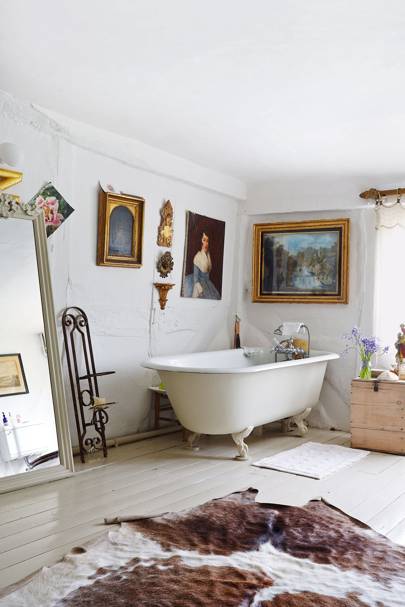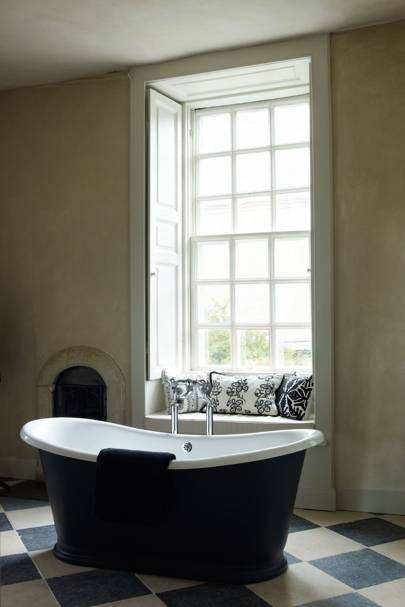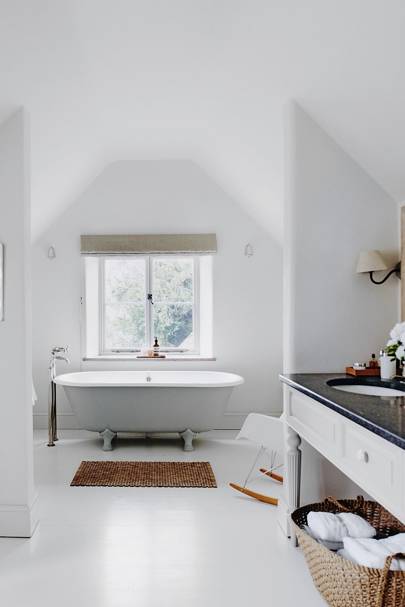 WHITE BATHROOM WITH FLOOR STANDING TAPS
The main bathroom in Joanna Vestey's farmhouse has a bath with floor-standing taps, which was found in France. C P Hart sells similar floor-mounted taps from £1,200. A black counter top offers a bold touch to the mostly pale room.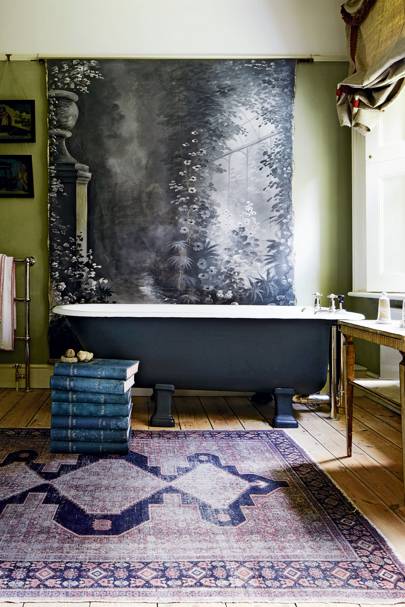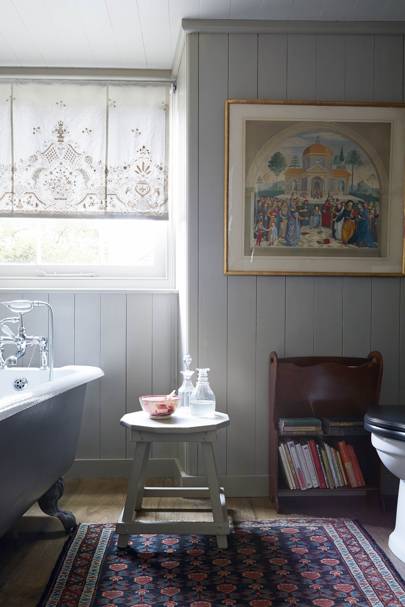 COUNTRY BATHROOM WITH RUG & BLIND
This ultra pretty bathroom in the guest cottage of designer Emma Burns of Sybil Colefax & John Fowler features a rug and a grey free standing bath. The room is filled with a diffuse light from a blind in 'Wheat Ears and Scrolls Border', £580 a metre, an embroidered cotton panel from Chelsea Textiles. 'It is particularly pretty with the light coming through, which is good for a bathroom,' says Emma.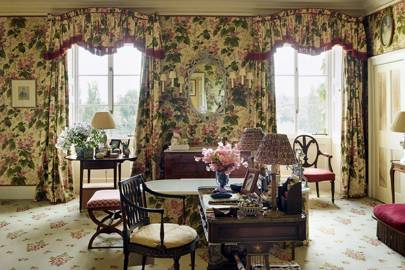 RUSTIC STRIPPED BACK COUNTRY BATHROOM
The story of Harriet Anstruther's farmhouse is simply one of exposing – and revelling in – the house's past. This new bathroom maintains the stripped back, unstudied rustic style that runs throughout her home with exposed flooring and a vintage map next to the rust-coloured bath.
MONOCHROME WALLPAPER & PRINTS
In the tiny bathroom of designer Ben Pentreath's flat, a collection of monochrome prints chime with the overscaled grisaille foliage wallpaper, 'Richmond Park' from Zoffany.