Keeping up with our small-space theme this month, we're sharing some of the pages inside Apartment Therapy Presents. It has real homes designed by real people, which is why we love both the book and the blog.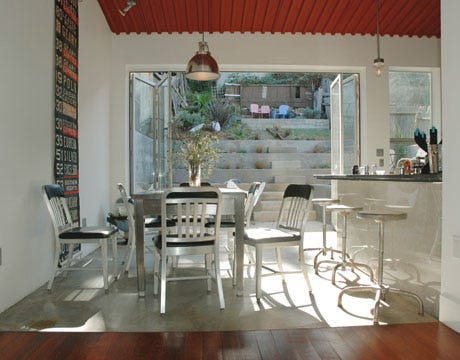 Contemporary Modernist Eating Area
The large patio doors, from NanaWall Systems, open effortlessly onto the backyard and are impervious to wind and weather. Steel decking from Dek-Ingis screwed into the ceiling rafters above the dining room and kitchen. The owner wanted to paint it, as well as the facade of the house, the precise color of the Golden Gate Bridge. He learned that Fireweed (SW 6328) by Sherwin-Williams was the closest color available to consumers. Most of the lighting in the kitchen is made from utilitarian electrical conduit. Residential LED lighting was too expensive, so he adapted LED lights for tow trucks and service vehicles, purchased from AW Direct.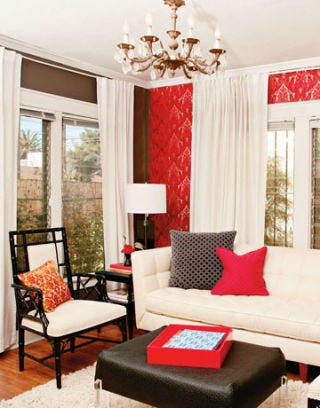 Venice Beach Living Room
The white tufted sofa is from Wilton Cordrey, which sells only to the trade. The coffee table is an ottoman with a Lucite base purchased from Jordan Cappella. The dark gray side walls are painted in Behr's Amazon Stone, and the trim is high-gloss white. Turquoise found the flocked gold-and-red wallpaper from the 1960s on eBay. The drapes and shag rug are from IKEA. The lacquered side tables with glass tops are empire style from the 1940s and came from Craigslist. The 1960s black-smoked Lucite lamps are from Karen Carson.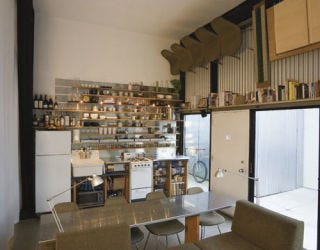 Functional Kitchen
The homeowners made such efficient use of vertical space that the upper wall of the kitchen area serves as storage for extra seating. For lighting, they went to Lowe's and chose MR-11 Track Lighting, then hot-wired noncompatible fixtures above the sink to work with this system. Throughout the space, they installed various transformers from Light Bulbs Unlimited. The pair of IKEA task lights on the dining table were initially meant to be temporary.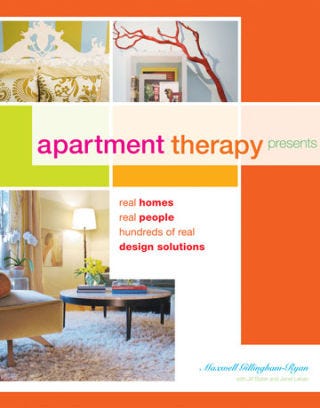 Apartment Therapy Presents: Real Homes, Real People, Hundreds of Design Solutions; published by Chronicle Books; available from barnesandnoble.com; 264 pages, $28.